supporting Manchester Communities Together
There's plenty we can do to support those in need at Christmas, and that kindness will be even more important this year. Whether it's donating to a food bank, volunteering at a soup kitchen, or lending your terrible dance moves to the latest Instagram charity challenge, all the little things add up and truly make a difference. *Oh no, Mum's twerking again, but this time it's for a cause.*
Here's just a handful of amazing Manchester charities you can support:
In true Mancunian style, we're coming together to say – We Love Manchester. All of Manchester. We're building on the strong legacy of the solidarity of the response to the Manchester Arena attack and we're coming together again to help our great city be the best it can be.
We will help our young people gain the knowledge, skills and confidence they need to succeed and support communities to celebrate their diversity and find common ground.
The We Love MCR Charity Fund provides the opportunity for groups and individuals to apply for funding of up to £2,000 for initiatives that will bring their communities/neighbourhoods together to celebrate diversity and help build stronger relationships in and across those communities.
50 Windows of Creativity is a new art trail around Manchester. The displays feature multiple art forms from fine art and photography to ceramics, crafts, mosaics and murals and will be curated by well-known and emerging artists, designers, makers and collectives – all with a connection to Greater Manchester. King Street is proud to be displaying  contemporary artist Lazerian Studio and Amy Coney as part of the trail (read more).
All pieces on display will be available to buy directly from the artist or maker, so it's a great opportunity to own an original piece of art or find unique gifts for friends and family. The project culminates with a live streamed auction on 17th December 2020 which will see a selection of pieces auctioned with proceeds going to their artists and makers, and to We Love MCR charity.
REGISTER AN INTEREST IN THE AUCTION NOW
Lazerian Studio's 50 Windows display on King Street
Forever Manchester is the only charity that raises money to fund and support community activity across Greater Manchester. We believe that connected communities make stronger, happier communities.
A monetary contribution is an easy and convenient way for you to help us invest money in communities where it is needed most. Investing in your local community to help it thrive can be a hugely rewarding experience. There's a unique sense of satisfaction in knowing that you are making a real difference to the lives of others, especially to those close to home. This can be a one-off or monthly donation.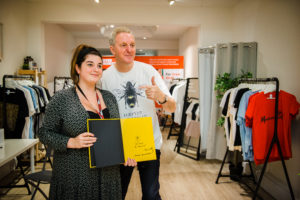 Poet, Tony Walsh, at Forever Manchester's pop-up shop on King Street in 2019