New city centre pop-up immersive space to open as part of an artistic experience
Manchester-based multidisciplinary creative studio Lazerian have plans to open up an art space like no one has seen before.
Located on King St, Manchester, the current spot for retail therapy followed by a leisurely drink and treat, Lazerian aka Liam Hopkins has plans to combine them both.
Due to open its doors Tuesday 15th June, Lazerian will be working alongside several city centre-based suppliers to offer a variety of freshly brewed coffees as well as delicious cakes and pastries but with a twist.
Lazerian SPACE will be a multi-sensory, evolving experience that will serve alcohol, sweet treats, as well as hot and cold drinks but with a unique creative style theme.
The progression of the space is an important factor of the experience. Much like previous work by Lazerian, this will be a progressive amalgamation of art and design whereas several factors of the project will continue to develop periodically throughout its time.
Art pieces and design products (that will be available to purchase both online and in-store) will be added throughout as well as elements added to the menu and fresh new concepts added ensuring no 2 visits will be the same.
The venue will be opened to the public throughout the day serving locally brewed coffees, cakes, bespoke luxury chocolates and homemade Italian pastries as well as delicious ice-creams made from a traditional recipe combined with added modern essentials (which include vegan versions and a eco-style tub which is edible)
People can pre-book to reserve a pod in hour-long increments. Tickets will be available on a first-come, first-served basis available online at the Lazerian website. With a capacity of only 40 diners per sitting and some of the best Manchester suppliers have to offer combined with the extra element of a creative experience, it will soon be the place to go.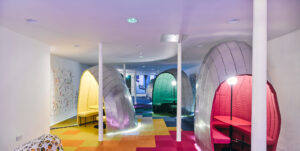 Hopkins wants to create Lazerian SPACE as an immersive artistic concept and to merge together other artforms that can sometimes be lost in the midst of more well-known forms of artistic expression, such as culinary art and multi-sensory, functional artworks.
Another of the Lazerian SPACE objectives is to bring together industries to work together and help bring people back to the city centre after national restrictions have left many businesses unable to recover. The philosophy behind the concept is to get businesses to work together from across the city and beyond which will in turn help Manchester recover from the pandemic and come back stronger than ever.
The pandemic has affected all industries and to work together with local businesses is a major objective of this project. With some first-rate suppliers on board, all of which have fantastic reputations, combined with the loom of the restriction being lifted and the smell of freedom for most people, the originality and intriguing nature of Lazerian SPACE is sure to entice.
The idea is that the majority of the pieces within Lazerian SPACE will also be for sale. Original one-off pieces by Lazerian will be on show for customers to enjoy including 6 large aluminium 'stations' that will form the basis of the experience. Within each station, there will also be the chance to fully immerse yourself into a full multi-sensory experience. Different 'smells' have been custom designed especially for this concept with each pod having its own unique scent as well as its own design and different coloured interiors. Visitors can then feel immersed, engaged and heightened due to the environment that surrounds them and transports them away from their day to day routine.
Inspired by recent circumstances, in relation to the Covid-19 pandemic, the environment, particularly the pods, have been created to represent our isolation and the 'bubbles' we are all experiencing and have been a part of. The pods epitomise the concept of an alien environment but in a fun and less sombre way. As the majority of the population have felt some sort of negative connotation with regards to quarantine, now is the time to have fun, celebrate and experience new and exciting things. Lazerian SPACE is a way to do this in a safe and creative manner. It's about changing people's perceptions with regards to being in a bubble and using that as a positive rather than a negative.
The ideology of the space is to create a fully sustainable circular economy. Customers will get a chance to contribute to an original sculpture that will be designed and created using all the plastic cups that will be continuously collected throughout the experience. People will have the choice of using the recyclable plastic for their drinks, to drink from space-age style pouches or to simply go for a ceramic cup. With the opportunity to contribute to a contemporary original piece of modern art the whole experience is ensuring that customers are involved and being immersed into the world of art and design.
As well as helping to shape future art pieces, wooden cutlery will be repurposed in the Lazerian workshop as a heat and power source- mainly for ceramic usage.
It will also help in the efforts to make the space Covid-secure.
Another sustainable effort is the interior decor of the space- over 6500 plastic bottles amassed from the sea were used to create the fabric that forms the avant-garde style of the intramural section of the large structured pods.
Liam Hopkins (Founder of Lazerian and Lazerian SPACE) ponders:
' With an unforgettable year previously (due to the national pandemic), I wanted to experiment with new concepts of bringing a creative experience that will appeal to a wide variety of people and be able to stimulate all the senses. Usually, my work takes on a physical form and yes, there are actual physical pieces within the store available to use and buy, but I want to make Lazerian SPACE a memorable event. There will be a lot of awe-inspiring surprises awaiting and it will certainly be different to a usual cafe/bar experience.'
With loads more astounding creative ideas taking place this will be an experience that will not only be memorable but out of this world!
Tickets are on sale now and you can book in advance for however long you need. (Prices will be in hour increments but with no limitation on time)
Booking link here
This is the preferred choice of booking to avoid disappointment.- walk-ins are welcome but bookings will take priority. Also take away option is available but to gain the full experience it is advised to book a pod.
For more details please contact Claire McDivitt at claire@lazerian.com for further images, general information and booking enquiries.