The Pop-up Club is popping up on King Street this June and we can't wait to welcome them.
Founded by Tillie Peel, The Pop Up Club provides retail space to help artists, makers and emerging brands nurture and grow their businesses. Tillie is now on a mission to support and promote makers and creators in Manchester and the surrounding areas.
The store will be open from mid-June until the end of August.
Quickfire Q&A with Tillie Peel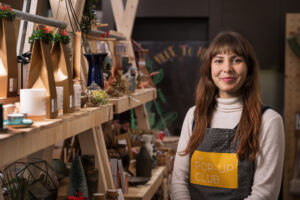 Tell us a little bit about you and the story behind your brand.
I started out as a market trader in Essex with a dream of having my own shop, and after leaving my local high street market I decided to start my own in a pub car park. I was eventually offered spaces within empty shops and that's how The Pop-Up Club was born.
How would you summarise your brand?
The Pop-Up Club provides affordable retail spaces for artists, makers and small indie businesses.
What does shopping 'small' or 'local' really mean for independent business?
Shopping small and local means the world to independent businesses. All of our traders put their heart and soul into their work, and into producing gifts that are ethical and of high quality. Every sale made has a huge impact on their business growth.
Find out more about The Pop-up Club here.