The Inconvenience Store brought to you by RSPB
Today pop-up shop, the InConvenience Store, opens in central Manchester (6 King Street), Edinburgh and Cardiff, taking members of the public on an immersive shopping trip to a dystopian future in which nature has collapsed, our skies have fallen silent and entire cities have disappeared under rising seas.
The InConvenience Store shows the public how a future without nature will impact their lives. Its products – like sandbags, clean air and drinking water paint a grim picture of everyday essentials we'd need to survive if nature's no longer helping us combat problems like pollution and flooding.
Open from July 1- 8, the InConvenience Store will also sell insect protein as meat and fish will have become too expensive and scarce for most consumers to buy, birdsong vinyl to recreate the lost treasure of live birdsong and UK grown rice – one of the few crops which can survive the new hotter, wetter climate.
Fruit at the InConvenience Store is now a luxury item after the extinction of pollinating insects means human pollinators have had to step in. It's vital that this imagined future is not allowed to become a reality.
A new RSPB report also launched today shows how the UK Governments could change the course of history and even unlock £6.4 billion in public benefits –  dwarfing public sector spending on nature in 2018/19 by over 1,000%.
The report shows how nature is crucial to our efforts to revive our world by storing carbon, helping to prevent flooding and safeguard communities' way of life, all while creating amazing havens for wildlife that everyone can enjoy.
To find out more about how the RSPB is helping everyone call on politicians to revive our world visit www.rspb.org.uk/reviveourworld
#ReviveOurWorld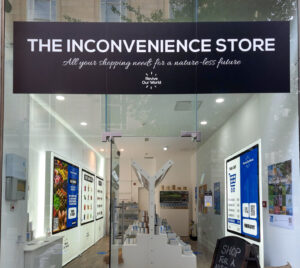 The RSPB was founded in Fletcher Moss Park, Didsbury, by Emily Williamson in 1889

 

July 1 marks the centenary of the 1921

Importation of Plumage (Prohibition) Act (banning the import of feathers for fashion) the RSPB's first successful campaign to protect nature – one hundred years later the stakes for nature are higher than ever before.